Good morning everyone,
Day 23 and I'm feeling hopeful about the potential of marriage equality in Australia. I'm hopeful because this project has put me in touch with so many people who are shouting out "GET IT DONE", and I know that collective voice is being heard!
Today's submission is from the very fabulous Carly Bald, and great ally who is feeling the disappointment of years of inaction on this issue. I think it's important to point out that this isn't partisan anymore, we want all sides of politics to work together and get this through. Carly is giving us her best Tim Gunn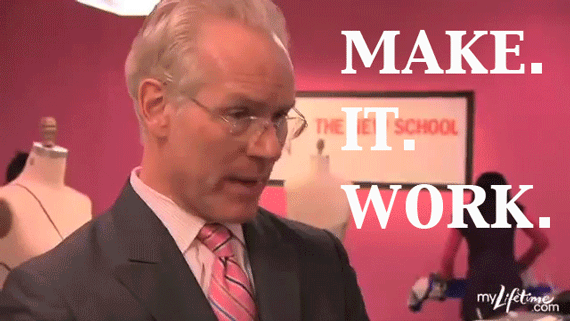 As there are still a few spot to fill, please email your submission to damien@djomeara.com.
Take care,
Damo
—
The Hon Malcolm Turnbull MP
Prime Minister
Parliament House
CANBERRA ACT 2600
7 December 2016
#DearPM: Marriage Equality (23 of 30)
To the Hon Malcolm Turnbull MP,
On this lovely morning, let's talk about hope. I have a lot of hope for marriage equality in Australia. I have hope because I know that most Australians want equality, that our Prime Minister wants to achieve it, and that we could have it in the first sitting of parliament next year. All that needs to happen is for you to listen to us, and to do what's right (#FreeVoteInParliament).
A lot of people have been emailing to ask if I've heard back from you. As of this morning, I haven't heard anything. But I started thinking about how you might respond. And I get worried, because what if I get a stock response, with no consideration of the amount of work that I, and the 29 other contributors, put into these letters.
Today's letter is from Carly Bald, a brilliant and supportive person who is disappointed with that lack of progress on this issue. Carly says, "I hope that you can take something from this, and the other letters you have received." And I really echo her sentiment.
It is time to do what is right, and let love win. It is hard to believe that Australia still has not amended the Marriage Act by now, December 2016. 

I am sure you are aware of the ever growing list of countries that have made marriage an equal right. It is disappointing to see Australia rapidly falling behind. Right now, the Australia that we live in separates people based on who they love. Something that is not a choice. You do not choose who you fall in love with, anymore than you choose if it is hot or cold on any particular day. It is a thing that happens, beyond your control. 

I am disappointed that you entertained the idea of a hurtful and divisive Plebiscite that would have opened up many channels of hate speech, cost us tax payers a whole lot of money, and in the end would not have ended with an enforceable result. I am disappointed that you continue to grant some people rights, but not other people.

I invite you to explain what effect two adult humans who love each other, but happen to be of that same gender, getting married has on anyone else.

I hope that you can take something from this, and the other letters you have received. I hope that you can reflect on the many points raised in these letters, and that you can rethink your position on this issue. I hope that you can make Australia a progressive and inclusive country that we can be proud of.

Thank you for your time.
Carly Bald, Victoria
Thanks to Carly's submission, I think we are all focused on hope for the future. But Carly also points out the growing list of countries that have legalised equal marriage for their LGBTI people.
Eight of the top 10 countries in the OECD index have marriage equality, and the OECD openly states that social factors and equality are an important factor in future considerations. With that in mind:
What advice has the Prime Minister received from the Minister for Foreign affairs on Australia's current stance on equal marriage and how it affects our standing with other top-10 OECD countries?
This is my twenty-third letter in a series calling for a free vote on marriage equality in the parliament, and in your current term. A free vote is the correct way to legislate for marriage equality. You could allow this to happen today.
Yours sincerely,
Damien O'Meara